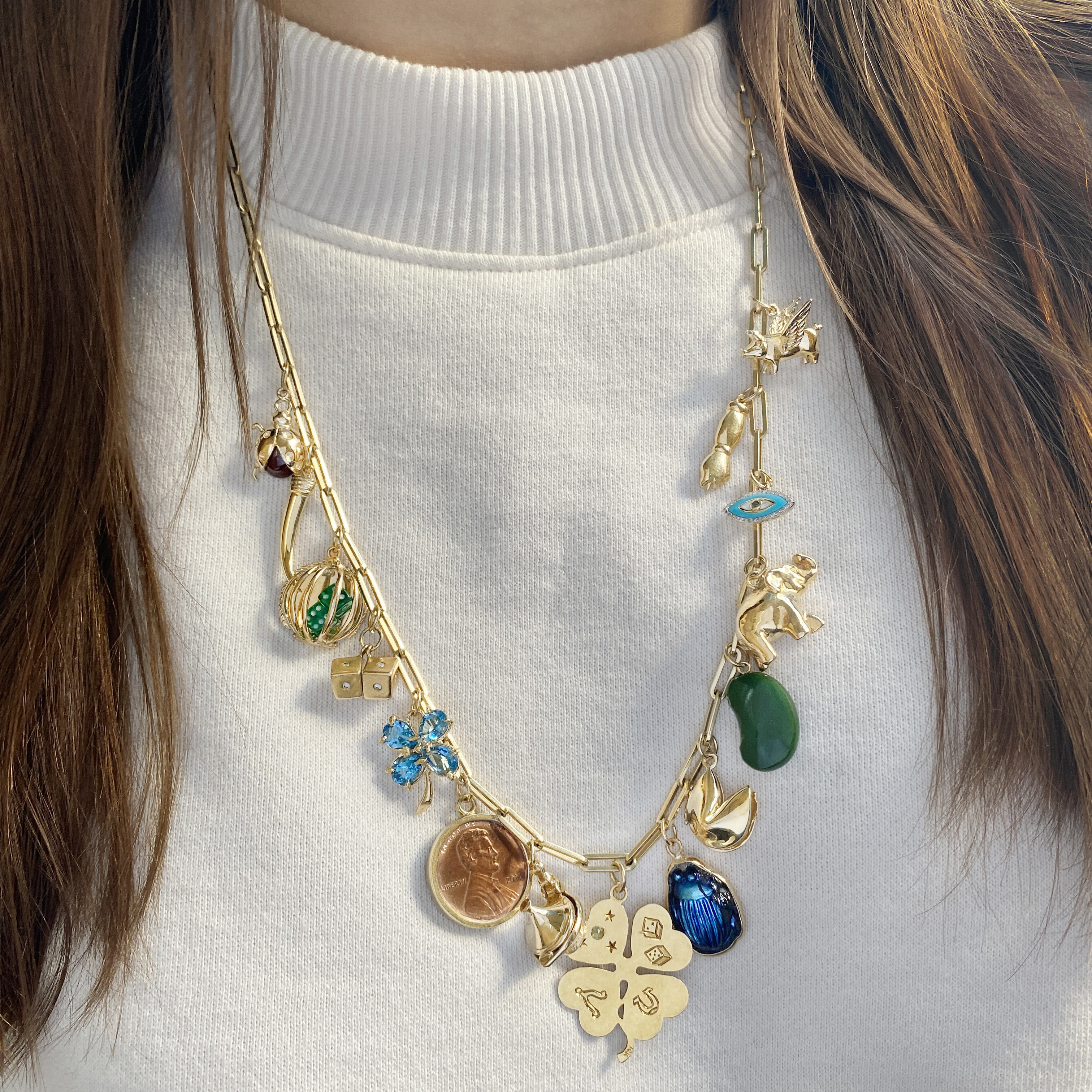 Can you believe it's March again? Us neither. Despite the feeling it's been March for a year... it is still one of our favorite months here at Charmco. March is full of celebrations and charm worthy traditions!
Here's what's on our list. Honor St. Patrick Day with good luck and protection charms. Celebrate the wonderful women in our lives for Women's Day & Women's History Month with charms that represent strength and femininity. Mark the change of seasons with Spring themed charms that remind us of sunnier days to come.
One of the most recognizable symbols of St. Patrick Day and luck is the four-leaf clover.
A three-leaf clover was used by Ireland's patron saint, St. Patrick, in his teachings and has symbolized the country for centuries. But, the rarer four-leaf clover has come to symbolize luck and good things to come. Each leaf is believed to represent something; the first is faith, the second is hope, the third is love, and the fourth is luck. On Charmco's Engravable 14K four-leaf clover, you can engrave each leaf with something special, a name, an initial, or the classic FHLL.
If you have already had your fill of green beer and leprechaun trap ideas but still need to ward off a little bad juju we have you covered with Charmco's lucky charms from all around the world.
Charmco's 14K Gold Classic Wishbone may help your wishes come true, as the legend goes that if two people tug on a wishbone, the one who gets the longer side has the wish granted. While our wishbone charms don't break, they can still provide good fortune.
Charmo's14K Gold Buddha can bring a sense of peace, enlightenment, and wellbeing to your life.
Charmco's 14K Gold Elephant is a long-standing symbol of wisdom, luck, and strength.
For Women's Day and Women's History Month we are thinking about the charms that say protection, strength, and femininity. All the qualities we love about women everywhere and especially the ones that make Charmco hum everyday.
Charmco's Gem-Set 14K Hamsa, also known as the Hand of the Goddess, is said to provide the wearer with not only protection from harm, but also good luck. It is a timeless and powerful symbol of femininity.
Charmco's 14 K Gold Figa is a talisman traced back to Ancient Greece that wards off the evil eye and bad spirits in many cultures. While the fist can be seen as a modern symbol of strength and solidarity.
And lastly Charmco's lucky 14K Gold and Garnet Lady Bug has us dreaming about spring flowers. Ladybugs are also popular charms said to provide good luck and protection.
Best of luck!