April is in bloom, which means it's time to start thinking about how to celebrate Easter. Even though this year's extraordinary circumstances mean that you might not be able to be with your loved ones physically this Easter, you can still show them how much you care with a vintage or vintage-inspired gold charm from Charmco. No matter where your family or friends are in the world, their new gift will allow them to be with you in spirit to celebrate the season of rebirth.
At Charmco, we offer an array of beautiful 14K and 18K gold charms for a variety of different hobbies, occasions, sentiments, and more. Many of our charms are engravable for an extra touch of personalization, and all are wearable on necklaces and bracelets. We offer free ground-shipping within the continental United States and 10% of your first order when you subscribe to our newsletter (you can sign up on the bottom of this page). Read on to explore some of our gorgeous Easter charms, and check back on this blog frequently to discover even more of our one-of-a-kind pieces.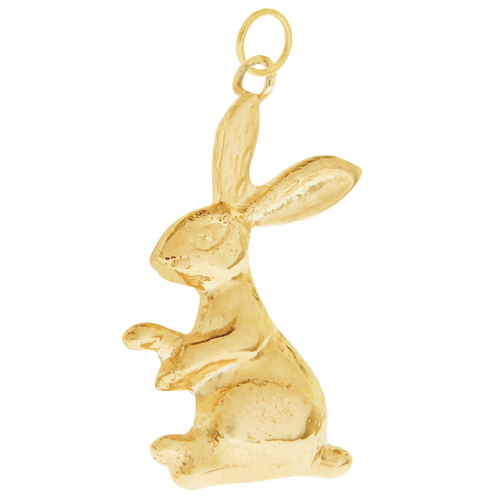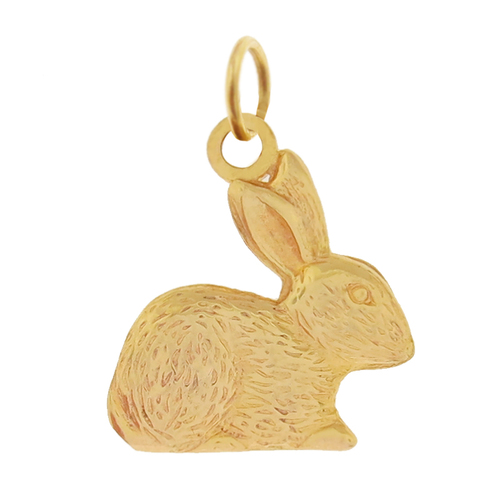 Easter Bunny Charms
Bunnies are one of the most well-known symbols of Easter. Because rabbits give birth to big litters of babies (called kittens) in the spring, they have come to represent the season of fertility and rebirth. Legend has it that a figure called the Easter Bunny lays, decorates, and hides eggs, which also symbolize new life, around the world.

At Charmco, we offer two stunning bunny charms to help you celebrate the season in style. Our Bunny Rabbit 14k Gold Charm is available in yellow, rose, or white gold and can be attached to either your own chain or one of our 14K gold Charmco bracelets or necklaces for an additional $10. If bunnies make you "hoppy," you will also love our Bunny 14 Gold Charm, featuring a vintage-inspired rabbit sitting on its paws. Available in 14K yellow gold, white hold, or rose gold, this sweet bunny makes the perfect addition to any Easter outfit.
Easter Egg Charms
Another ubiquitous symbol of Easter is the Easter egg. Like bunnies, Easter eggs symbolize fertility, new life, and rebirth. While the oldest Easter egg tradition is to use dyed and painted chicken eggs, today it is more common to substitute chocolate eggs wrapped in colorful foil or plastic eggs filled with chocolates and other candy. Often, Easter eggs are used for fun holiday games, such as egg hunts, egg rolls, and more.
Today you can carry the Easter spirit with you everywhere thanks to Easter Egg 14K Gold Movable Charm. This beautiful and delightful yellow gold charm features an Easter egg that the wearer can open to reveal a little gold chick. As a three-dimensional, movable charm, this unique piece is sure to elicit gasps of admiration from everyone who sees it.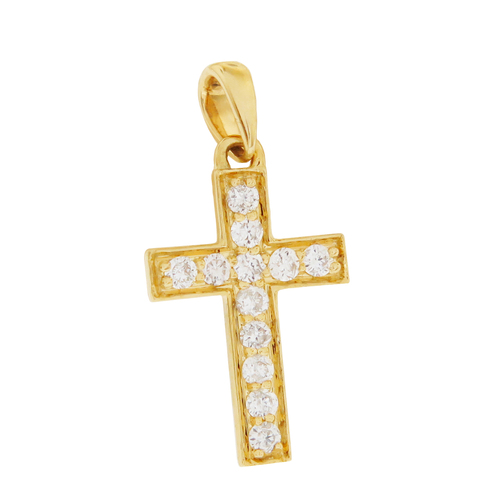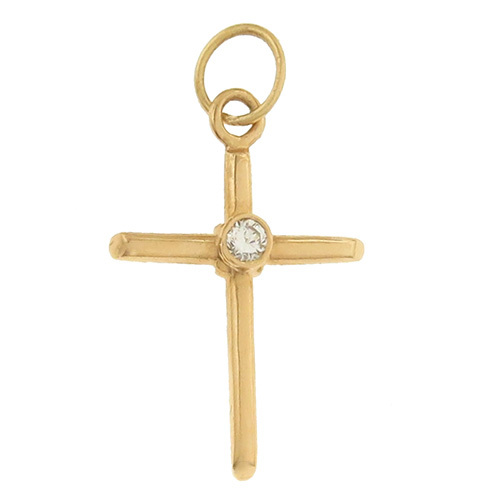 Cross Charms
The real meaning of Easter, of course, is to still celebrate the resurrection of Jesus Christ. At Charmco, we offer a variety of breath-taking religion and spirituality charms, including an array of 14K and 18K gold cross charms. Cross necklaces and bracelets are often worn as an indication of commitment to the Christian faith. They make great presents for religious rites such as baptisms and confirmations, as well as Christian holidays, including Easter.
Some cross charms that our customers especially love as Easter gifts include our Classic Diamond Cross 14K Gold Charm and Cross With Diamond 14K Gold Charm. Both of these charms feature genuine 14K gold and diamonds to create a shining and stunning display that can be worn any time of the year. Our Classic Diamond Cross 14K Gold Charm is available in yellow gold and set with twelve .15 carat round diamonds, and our Cross With Diamond 14K Gold Charm is available in yellow, white, or rose gold, and bezel set with a dazzling .025 diamond. These charms go perfectly with any outfit and allow the wearer to declare their faith not just at Easter but year-round.
Celebrate Easter With a 14K Gold Charm
While Easter this year may not look like we're used to, it can still be an occasion for celebration and love. Whether you order one of our 14K gold charms for yourself or a loved one, you're sure to brighten the season with a sparkle of holiday spirit.