Whether you're Irish or simply love the Emerald Isle, St. Patrick's Day is a great opportunity to celebrate the tail end of winter by dusting off your leprechaun hat and gathering for a Guinness. One of the most ubiquitous symbols of Ireland and St. Patrick's day is the shamrock — a common three-leafed clover said to have been used by St. Patrick to symbolize the Holy Trinity. Since St. Patrick is Ireland's patron saint, the shamrock has been used to symbolize the country since the 18th-century.
A rare variation of the shamrock is the four-leaf clover. According to Irish superstition finding a four-leaf clover is said to bring good luck. Some traditionalists even say that each leaf represents a different type of fortune; one leaf will bring you fame, another will bring you wealth, yet another will bring you a faithful lover, and the last will grant you glorious health. Today, shamrocks have become a worldwide symbol of good fortune. Often, people will wear four-leaved clovers on a necklace or bracelet to bring them good luck and/or celebrate their Irish heritage.
At Charmco, we offer a variety of beautiful 14K and 18K gold four-leaf clover charms. From gold lockets to pieces set with diamonds, our collection of vintage and vintage-inspired gold charms has a four-leaf clover for everyone. All of our charms feature genuine 18K or 14K gold, and are wearable on necklaces and bracelets. We offer free ground-shipping within the continental United States and 10% of your first order when you subscribe to our newsletter (you can sign up on the bottom of this page). Read on to discover some highlights from our gorgeous four-leaf clover collection.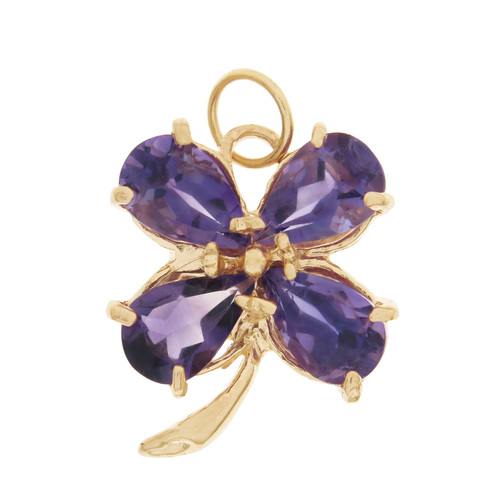 Charms Featuring Semi-Precious Gems
Our trilogy of 14K yellow gold charms features three different semi-precious gems — tantalizing topaz, stunning citrine, and alluring amethyst. These birthstones make great birthday gifts for December, November, and February, respectively. Sure to add sparkle to any outfit, our semi-precious four-leaf clovers will not only bring you good luck but also inimitable style.
Those looking for a vintage charm should check out our Vintage Amethyst Clover 14K Gold Charm. Set with a beautiful amethyst in its center, this genuine 14K yellow gold features three dimensions to give it added detail and depth.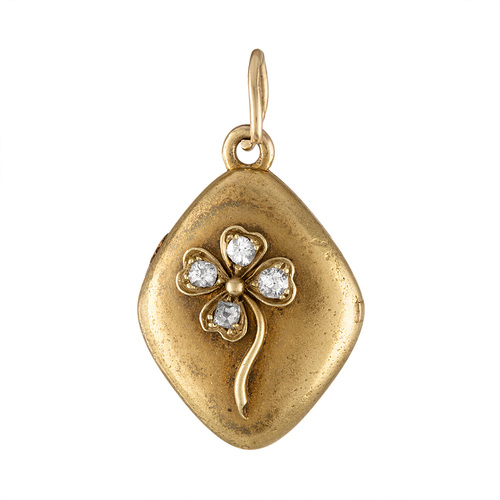 Diamond-Set Charms
Treat yourself or your special someone to a girl's best friend with these vintage diamond-set charms from Charmco. Made from 18K gold, each of these charms features genuine vintage diamonds restored to their original splendor. Our Vintage Locket with Diamond Clover 18K Gold Charm offers the perfect place to hold pictures of loved ones. Set with mine-cut diamonds weighing a total of .20 carats, this unique charm makes the perfect gift for those with an Irish heritage, an April birthday, or simply the need for a little luck.
Our Vintage Diamond Four-Leaf Clover 18K Gold Charm is another breathtaking option for people looking for a little luck of the Irish. The center of the clover is set with diamonds weighing approximately 0.3 carats, making for a sparkling, one-of-a-kind piece. Whether you choose to wear it on a bracelet or necklace, this rare beauty makes the perfect St. Patrick's Day gift.
.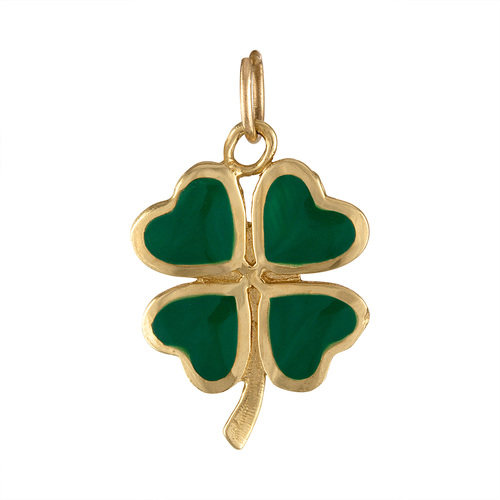 Classic Designs
If none of the designs above have struck your fancy, don't worry! We also offer several 14K gold four-leaf clover charms featuring timeless, beloved designs. Those looking for an engravable option may want to opt for our Four-Leaf Clover 14K Engravable Gold Charm. This yellow gold charm features an engravable front surface to add an extra touch of personalization. Engrave initials or an important date in standard block or standard script style for a one-of-a-kind, unforgettable gift.
With the option of yellow gold, white gold, or rose gold, our Four-Leaf Lucky Clover 14K Gold Charm is sure to please even the pickiest gift recipient. This vintage-inspired charm makes a great good luck talisman, and is wearable on both a necklace or a bracelet. Use your own chain or buy one of our 14K and 18K gold chains.
There's nothing like a burst of green to bring on the St. Patrick's Day spirit. Our Vintage Green Enamel Four-Leaf Clover 14K Gold Charm features stunning green enamel that will match any outfit. Wear it on a necklace or bracelet to channel the luck of the Irish wherever your day may take you.
Keep Calm and Shamrock On with CharmCo
If you're looking to sport some shamrock style this St. Patrick's Day, look no further than our collection of vintage and vintage-inspired gold charms, featuring a classic four-leaf clover design. Order today to get your charm in time for the holiday. Sláinte!