It's that time of year again! Trees are heavy with snow, the streets are thick with frost, and you're utterly lost at what to get your loved ones for the holidays. Fear not, thanks to Charmco's unique vintage vault of gold charms! These elegant holiday charms are either inspired by vintage styles from many eras or are genuine vintage charms themselves. We offer free ground UPS shipping for all orders in the United States, as well as expedited shipping options, so you can get your special gift wrapped and ready as soon as possible.
In this blog post, we'll explore some of the many holiday charms within our vintage vault. No matter what holiday you celebrate, there's something for everyone in our stunning collection!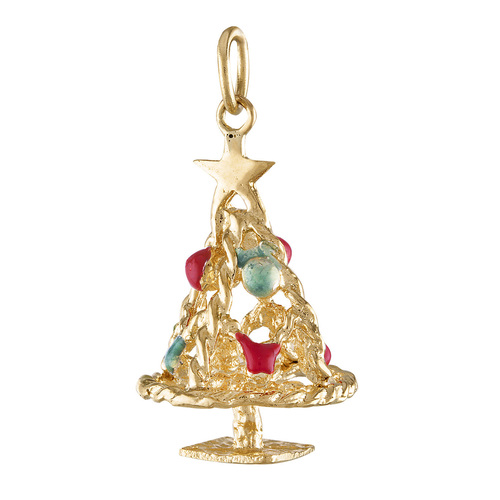 Vintage Christmas Charms
Ring the carolling bells, pour the eggnog, and hang the mistletoe, because Christmastime is almost here! There's no better way to seize the season than with one of our unique vintage Christmas charms from Charmco. If you're looking to give your loved one a Christmas gift that they'll never forget, place one of these gorgeous charms beneath their tree.
Vintage Colorful Christmas Tree 14K Gold Charm
This enameled charm features festive red and green ornaments to accent its classic Christmas tree design. Perfect for a Charmco bracelet or a necklace of their choosing, this colorful piece will make a beautiful addition to your loved one's jewelry collection.
Vintage Festive Christmas Tree 14k Gold Charm
If you're looking for another colorful Christmas tree option, our Vintage Festive Christmas Tree 14k Gold Charm features a multicolored enamel design. Made from genuine 14K gold that will complement any outfit, this charm is also engravable, so you can celebrate your loved one this holiday with a personalized holiday message.
Vintage Joyeux Noel 14K Gold Charm
For a sophisticated Yuletide twist, consider this lovely French disc from our vintage collection. Featuring the words "Joyeux Noel" — "Merry Christmas" in French — this gold charm is the perfect gift for the discerning jewelry lover in your life. The back of the charm is engravable for a one-of-a-kind Christmas gift.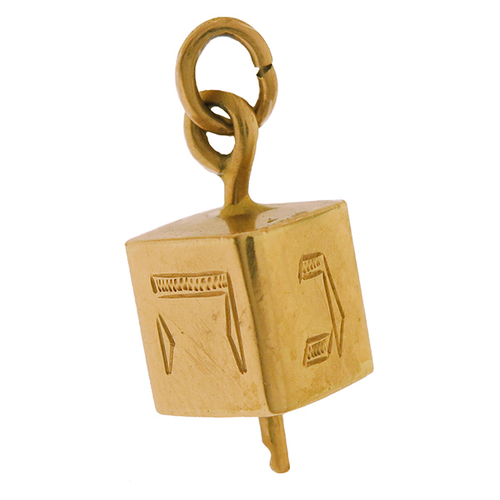 Vintage Chanukah Charms
Chanukah is a Jewish winter holiday also known as the Festival of Lights. Chanukah traditions include eating fried foods, lighting the menorahand spinning a traditional dreidel. If someone in your life celebrates Chanukah, surprise them with one of our stunning 14K gold Chanukah charms.
Vintage Blue Enamel 'Chai' Disc 14K Gold Charm
In Judaism, the Hebrew letter Chai stands for "life." People often offer gifts featuring the letter Chai on special Jewish occasions, such as bar or bat mitzvahs, weddings, and, of course, Chanukah! Toast your loved one "L'chaim!" ("To life!") with this unique blue enamel disc, made of 14K yellow gold.
Vintage Dreidel 14k Gold Charm
There's nothing like a classic game of dreidel to celebrate the Chanukah spirit. Each side of our Vintage Dreidel 14k Gold Charm is hand engraved with a Hebrew letter used in this rich Jewish tradition. Spin the top and see where it lands; perhaps on one of our Charmco gold bracelets or a necklace of your loved one's choosing.
Vintage Star Of David 14k Gold Charm
The Star of David is widely recognized as the classic symbol of Judaism. This beautiful vintage charm will make a wonderful Chanukah gift for your loved one, thanks to its unique design and engravable back, perfect for a personalized message.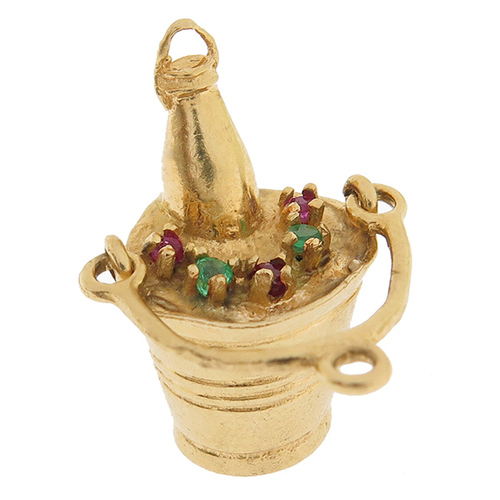 Vintage New Year's Eve Charms
It can be easy to forget that there's more to the holiday season than just Christmas and Chanukah. Ring in a happy, healthy new year with one of our vintage New Year's Eve charms. These 14K gold designs are the perfect way to remind your loved one of their resolutions all year long.
Vintage Champagne Bucket with Rubies & Emeralds 14k Gold Charm
Who doesn't love a gift of precious stones, set in gorgeous 14K gold? Dazzle your loved one with our vintage champagne bucket charm and help them celebrate the new year in style! This movable, three-dimensional charm features a swinging handle to give it that extra special touch.
Vintage Champagne 14k Gold Charm
Our beautiful Vintage Champagne 14k Gold Charm offers another lovely option for a unique New Year's Eve gift. Pop open the bubbly and get the party started with this celebratory champagne bottle charm, the perfect accent for one of our Charmco bracelets, or any kind of necklace.
Vintage Toast to the Most Disc 14K Gold Charm
Are you looking for something extra special to help ring in 2020? This large gold disc makes an ideal gift for a New Year's Eve party host or hostess, or that special someone in your life. Raise a glass and let them know just how much you care, thanks to an engravable back.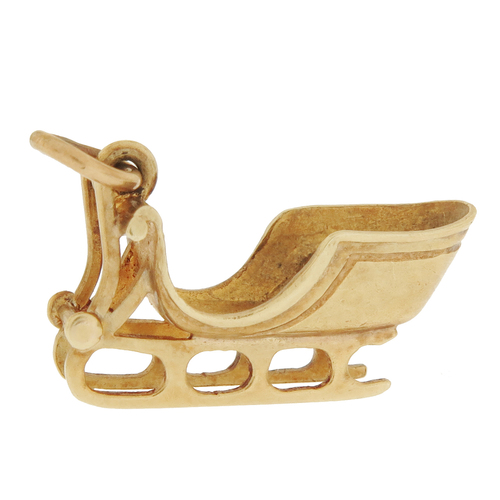 Vintage Winter Charms
If someone in your life celebrates a holiday not featured here or simply loves to wander in a winter wonderland, look no further than our collection of vintage winter charms for the perfect holiday gift. Light a fire, pour some cocoa, and cozy up with one of these stunning gold beauties.
Vintage Cozy Movable Cabin 18K Gold Charm
Nothing says "wintertime" more than a comfy cabin. Take one look at this large 18k gold charm, engraved with winter details such as a pine tree, snowman, and beautiful white gold for snow, and you'll be transported to the holiday home of your dreams. This extra special piece is movable — open the roof and reveal two real pearls cuddled up in bed. 18K gold has a rich, yellow appearance that contains a higher percentage of pure gold than our 14K charms.
Vintage Holiday Sled 14k Gold Charm
Help your loved one dash through the snow with our Vintage Holiday Sled 14k Gold Charm. This charm makes the perfect gift for any winter sport fanatic, or anyone with nostalgia for the winter fun of yore. Our cheery vintage sled instantly evokes the holiday season, making it a classic for any collection.
While we hope you've found the perfect holiday gift among this selection of our vintage holiday charms, feel free to peruse even further into our vintage vault. For that classy and classic look that everyone will envy, look no further than Charmco for your holiday gift needs.