Posted by Charmco on Aug 6th 2018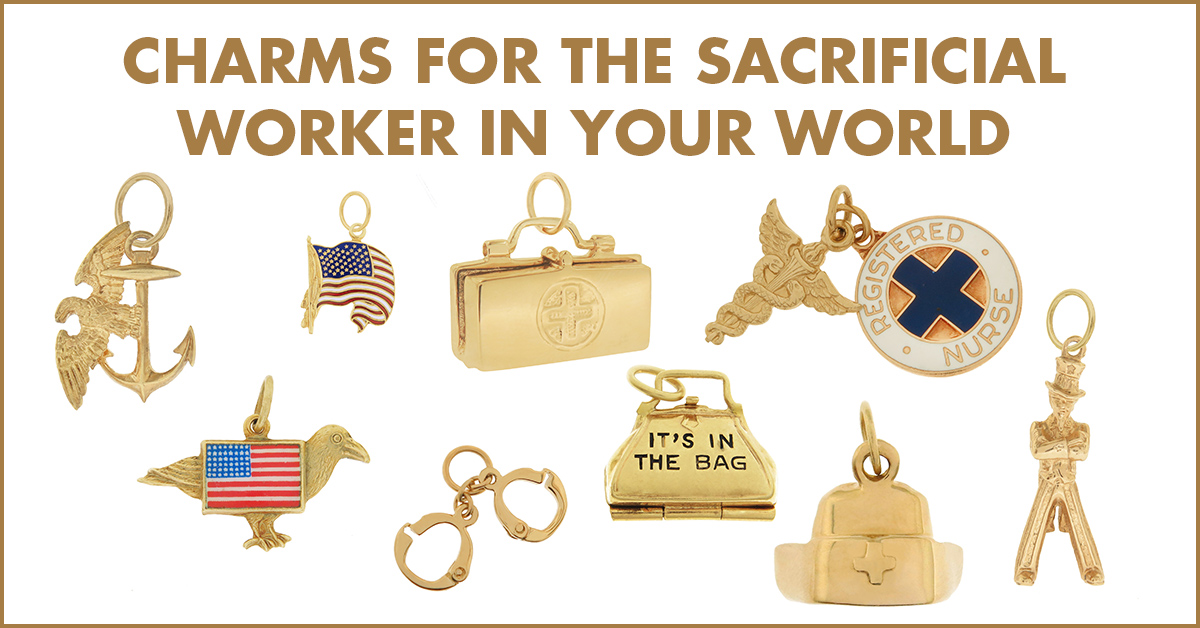 An official holiday to celebrate workers or "labor", Labor Day marks many changes. It's the unofficial end of summer even though the Autumnal Equinox is not until the third week of September. Traditionally, women in the late 1800s and early 1900s couldn't wear white after Labor Day. Most schools do not begin until after Labor Day. Labor Day marks the end of the summer travel season. Families, friends, and co-workers gather together, attend a parade, barbeque, watch fireworks, or play sports.
In keeping with the tradition of celebrating workers who have poured their blood, sweat, and tears into their work and made this nation great, Charmco has many charms to mark the occasion in our Hobbies and Professions section as well as New Arrivals. This post will focus on charms for the Armed Services, Health Care Providers, and Law Enforcement. Charmco has many, many charms for all of the professions, so please visit our Hobbies and Professions page for more!
Stay patriotic with our Vintage American Eagle 14k Gold Charm. Sporting the American Flag, this 14k Gold Charm is sure to shout your love of this country. The perfect gift for any armed servicemen or women, past or present.
Celebrate our Marine Corps with our Vintage Marine Corps Eagle Emblem, another 14k Gold Charm. Perfect for either someone in the Marine Corps or the mother or wife of a serviceman, this 14k Gold charm is simple and classic in design, featuring the insignia and emblem of the United States Marine Corps.
Choose our iconic Vintage Waving American Flag 14k Gold Charm to celebrate the United States. A true representation of the American Flag, this charm has 13 stripes (representing the original 13 American colonies) and 50 white stars, one for each state, on a field of blue. Perfect! Charmco offers a slightly different Vintage Enamel American Flag 14k Gold Charm that is engravable.
Charmco's Uncle Sam 14k Gold Charm is amazingly life-like and exquisite in detail. Universally recognized from the recruitment posters of WWI & WWII, this 14k Gold Charm honors our veterans as well as current military service men and women. The perfect embodiment of patriotism and American values, Uncle Sam 14k Gold Charm will please all those with a heart for America.
Designed for the law enforcement officer in your life, Charmco's Handcuffs 14k Gold Charm celebrates those who protect our freedoms in our communities. A perfect thank you gift that speaks volumes! Pair with Charmco's Movable Gun 14k Gold Charm that features a barrel that opens and closes to complete the collection.
Celebrate the healer in your life with Charmco's Doctor's Bag with Stethoscope 14k Gold Charm. A first aid symbol on the front, this movable 14k Gold Charm opens up to reveal a stethoscope on the inside. A perfect gift for the unsung caretaker you know!
Charmco's Vintage "It's in the Bag" 14k Gold Charm invokes the times when doctors made home visits around the countryside to patients. This 14k Gold Charm opens to display a litte chemist's set of potions and drugs. Perfect charm to remind the caretaker he or she matters in little ways and big!
Charmco's Nurse Hat 14k Gold Charm honors and recognizes the hard work of nurses who are often the first line of caretakers in a hospital. This 14k Gold Charm is vintage style nursing cap with the universal cross symbol. Tell the nurse in your life how much you care today!
Another option for the nurse you know and love is Charmco's Vintage Registered Nurse 14k Gold Charm. Featuring the classic caduceus and a blue cross, this 14k Gold Charm pairs nicely with the Nurse Hat or as a stand-alone charm.
Charmco Values Those Who Put Their Lives in Danger...
Charmco values those who put their lives in danger for strangers. Our military has made this country the Land of Freedom and the greatest nation this world has ever seen. Service men and women sacrifice their families when they leave to defend this country. Charmco thanks them!
As well as those on the frontlines overseas, Charmco honors those on the front line in our communities. Law enforcement officers do everything in their power to keep us safe here at home from fighting terrorists who attack us to ticketing speeders to busting drug deals. Our lives are made better by their sacrifice, and Charmco thanks them!
In emergencies, seconds matter. Charmco honors the men and women who save lives every day with their touch, such as physicians, nurses, EMTs, firefighters, and all those who know First Aid and CPR and who answer the phone at 911 operating facilities. These men and women take care of the details so every citizen can be around the next day to enjoy our freedoms.
On Labor Day, Charmco wishes all a happy day full of laughter, enjoyment, relaxation, and family time as a new season begins! Check out our full selection of 14k Gold Charms honoring workers, and Charmco is open to creating unique pieces as well. Contact us today!